Lighting typically accounts for about eight to 10 percent of the average electric bill. By replacing your home's five most frequently used light fixtures or bulbs with models that have earned the ENERGY STAR, you can save $45 each year.
Follow these tips to trim those costs!

No-cost tips
Turn off lights when not in use. You can save more money by turning lights on and then off again than by just leaving them on.
Take advantage of daylight hours whenever possible to illuminate your home without using electricity.
Low-cost tips
New energy-efficient compact fluorescent and LED bulbs produce more light for less energy. They cost more initially than incandescent bulbs, but last much longer—and are therefore much less expensive in the long run.
Prioritize bulb replacement according to how often the fixture is in use, in order to save the most energy and money. Focus on kitchen ceiling lights, family room table and floor lamps, and outdoor entryway/porch lights.
Paint interior walls a lighter color. This will reflect light throughout your house and reduce the need for additional lighting.

You have many choices in energy-efficient lighting. The most popular light bulbs available are halogen incandescent, compact fluorescent lamps (CFL), and light-emitting diodes (LED). Although they can initially cost more than traditional incandescent bulbs, they save you money because they use less energy during their lifetime. You can find these in most hardware and home improvement stores.
Controls such as timers and photocells save electricity by turning lights off when not in use. Dimmers save electricity when used to lower light levels. Be sure to select products that are compatible with the energy-efficient bulbs you want to use.
If you have outdoor lighting that is left on for a long time, using CFLs or LEDs in these fixtures will save a lot of energy. Most bare spiral CFLs can be used in enclosed fixtures that protect them from the weather. CFLs and LEDs are available as flood lights. These models have been tested to withstand the rain and snow so they can be used in exposed fixtures. Also, look for ENERGY STAR-qualified fixtures that are designed for outdoor use and come with features like automatic daylight shut-off and motion sensors.
Forget the days of referring to light bulbs as "40 watt," "60 watt" or "100 watt." The new nomenclature will focus on light output in lumens, and new labeling will help. Light bulb manufacturers are now required by the U.S. Federal Trade Commission (FTC) to label light bulb packages in two new ways.
The front of light bulb package must state:
light output measured in lumens
energy used in watts
life hours
The back of light bulb package must have a "Lighting Facts Per Bulb" label similar to the "Nutrition Facts" label on food packages. The "Lighting Facts" label must include:
light output in lumens
estimated yearly energy cost
life expectancy
light appearance (warm or cool light, expressed as the Correlated Color Temperature)
energy used in watts
whether the light bulb contains mercury
According to the FTC, the light bulb's brightness in measured in lumens. Technically, a lumen is a unit of luminous flux derived by measuring the time rate of flow of light. For the average member, the lumens associated with each light bulb will begin to become more familiar with the new light bulb packaging. View the chart as a point of reference for watts to lumens ratio.
Energy Used in Watts: Different types of light bulbs use vastly different amounts of energy to produce the same lumens, so an important bit of information is the energy used in watts, i.e. how many units of active electric power are used by a particular light bulb.
Life Hours
Feel like you're always replacing light bulbs? You'll have more information now that the life hours must be labeled on the front of every light bulb package. The life hours are the rated average life of a light bulb as determined by engineering testing and probability analysis.
For example, a traditional 40-watt incandescent, 500-lumens light bulb typically provides 1,000 life hours, whereas a 450-lumens LED typically provides 25,000 life hours, and a 450-lumens CFL typically provides 8,000 life hours.
Color Accuracy/Color Rendering Index
Known as CRI, the color-rendering index is a description of the effect of a light source on the color appearance of objects being illuminated. CRI is expressed on a scale of 1-100, with a CRI of 100 being the maximum possible. On a good-better-best scale, a good CRI is 60-79, better CRI is 80-89, and best CRI is 90-100.
For example, incandescent light bulbs typically are 100 CRI (no matter what the light output or lumens rating), while CFL light bulbs typically are 82-88 CRI, and LED light bulbs typically are 65-85 CRI.
Lumens Per Watt/Efficacy
This measurement expresses the total light output of a light source divided by the total power input. The higher the efficacy rating of a light bulb, the less it will cost you to use it. Calculating a light bulb's efficacy is a simple mathematical process using the information now required on the front of a light bulb package-- lumens divided by energy used in watts equals lumens per watt, or efficacy.
Light Color/Correlated Color TemperatureKnown as CCT, the correlated color temperature describes the light's appearance in terms of its perceived warmth or coolness. CCT is expressed as a temperature measured on the Kelvin temperature scale, where a low CCT (4,000 Kelvin and lower) indicates a warm light, while a higher CCT (4,000 Kelvin and higher) indicates a cool light. Although it seems counter-intuitive for a higher temperature to correlate with cooler light, it is more understandable when picturing a piece of iron that glows red hot at a lower temperature than when it becomes blue hot; the human eye perceives red as warm and blue as cool.
The single most important concept in creating a good lighting plan for the home is to use an array of different types of lighting. There are three different types of lighting – ambient, task, and accent.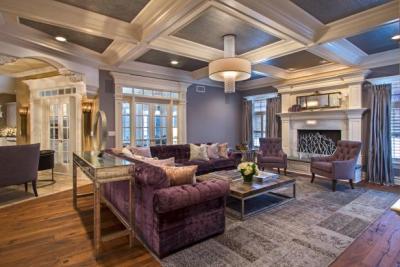 Also called general lighting, ambient lighting provides overall illumination for a room, and is intended to create a uniform light level throughout a space, independent of any special lighting that may be needed in targeted areas of a room. In most home settings, when a person steps into a room and flips on a switch, ambient lighting illuminates the space. Ambient lighting takes many forms, including: ceiling-mounted or recessed fixtures that direct light downwards; wall sconces or floor-lamp torchieres that wash the walls with light; cove, soffit and valance lighting that bounces light off ceilings and walls.
Targeted to a particular area of a room, task lighting is intended to illuminate a specific function. Areas of a home that require task lighting include kitchen counters where food will be prepared; living room seating areas where reading will take place; and home office desk surfaces where paperwork will be done. In a kitchen, under-cabinet lighting provides task lighting for a countertop; in a living room, a table lamp is often used for task lighting to accommodate reading.
Also called highlighting, accent lighting draws attention to a particular object, such as artwork, sculpture, plants or bookcases. Accent lighting is often used outdoors, to highlight a beautiful tree, plant or water feature, or to draw the eye to a particular area of the landscape. Recessed or track lighting is often used for accent lighting, with adjustable fittings that allow light to be focused precisely even on a small object.
Many options exist for providing light in a home, from integrated architectural solutions requiring contractors and tradesmen, to decorative lamps that only need to be placed on a table and plugged in to the nearest outlet. Although some types of fixtures are more commonly associated with a particular layer of lighting—ambient, task or accent—most fixtures are versatile enough to be used in a number of ways.
The three most common forms of architectural lighting are cove, soffit and valance; all three are integrated into the room's structure. Cove lighting is located in a ledge, shelf or recess high up on a wall, and the light is bounced toward the ceiling or upper wall. Soffit lighting is located in a soffit or cornice near the ceiling, and the light radiates downward, washing the wall with light. Valance lighting is located in a wood, metal or glass valance (horizontal shield) mounted above a window or high on the wall, and the light bounces both upward and downward. The technique of bouncing light off walls and ceilings is known as indirect lighting, which is favored by many lighting professionals because indirect lighting minimizes shadows and glare. Architectural lighting is most often used as ambient lighting.
Surface-mounted to the wall, sconces can direct light upwards or downwards, and their covers or shades can add a stylistic touch to a room. Wall sconces provide ambient or task lighting. 
Installed above the ceiling, this type of lighting has an opening that is flush with the ceiling. A recessed light requires at least 6 inches of clearance above the ceiling, and insulation is essential to ensure that condensation does not drip into the fixture. Recessed lighting sends a relatively narrow band of light in one direction; it can be used to provide ambient, task or accent lighting.
Suspended from the ceiling, a pendant light directs its light down, typically over a table or kitchen island. A pendant can enhance the decorative style of a room. Pendants can provide ambient or task lighting. 
Mounted or suspended from the ceiling, track lighting consists of a linear housing containing several heads that can be positioned anywhere along a track; the direction of the heads is adjustable also. Track lighting is often used for task or accent lighting.
Made in a wide range of sizes and styles, lamps are extremely versatile and portable sources of light in a room. Most lamps direct light downward, with the exception of a torchiere, which is a floor lamp that directs its light upward. Lamps are often used as task lights, particularly for reading, but can also provide ambient light.
Mounted under kitchen cabinets, this type of lighting can be linear or a single puck-shaped fixture. Under cabinet lighting is extremely popular as task lighting in a kitchen.
Suspended from the ceiling, chandeliers direct their light upward, typically over a table. They can enhance the decorative style of a room. Chandeliers provide ambient lighting.
Bathrooms
Task lighting is tricky in the bathroom. Cool light is often recommended, but it can distort colors when applying makeup. So you may have to choose one characteristic over the other or consider halogen bulbs here. Decorative incandescent bulbs, such as some globe lights, aren't part of the phase-out. Remember the lights over the sink can cast unpleasant shadows on your face; lights on either side of the mirror or medicine cabinet are better. Recessed lights designed for wet areas are fine over the shower. 
Bedrooms

Relaxation and romance are key. Dimmers and warm lighting can help, so look for bulbs in the 2700 to 2900 Kelvin (K) range. You will see this noted in the ratings and on the bulb package. Consider cooler lighting, which has a higher Kelvin number, for reading lamps or fixtures. Position those higher than the bed to minimize shadows. Skip CFLs in lamps in children's rooms, where rough-housing is more likely to lead to broken bulbs. CFLs release small amounts of mercury when they break.

 
Family or living room
Getting the lighting right in these rooms can be complicated because there are so many activities going on. Standard ceiling fixtures and recessed or track lights provide general lighting. Table and floor lamps deliver task and accent light. If your recessed lights or track heads are adjustable, they also can be used to accent art or concentrate light in a specific area. Aim accent and task lights away from shiny surfaces, such as TV screens and glass-framed artwork, to prevent reflected glare. Remember, most CFLs are not dimmable, though halogen bulbs and many LEDs are.

 
Hallways and staircases

Instant light is essential, so LEDs are the better choice for general lighting. LEDs are also great for hard-to-reach fixtures, often found in hallways and staircases, because they last for years and years. If you have fully enclosed fixtures, look in the ratings for LEDs that can be used in them; many LEDs can not because high temperatures can shorten their life. CFLs are fine for accent lighting, say, in sconces. Dark shades absorb light, so consider brighter bulbs.
Kitchen and dining room
A centrally placed ceiling fixture or recessed lights usually provide general lighting here, supplemented by under cabinet lighting for tasks. A fixture or two over the island and the table boost general lighting, and dimming lets you switch moods and move from homework to dining. If you have recessed lighting, the color of the light can interior, which surrounds the bulb, affects light output and light color. A shiny metal reflector casts the most light but increases glare. A black interior reduces glare but absorbs light, so you might need a brighter bulb.
Outdoor

Safety, security, and ambience are important, but you'll also need to consider climate. CFLs take longer to brighten the colder it gets and may not work in frigid temperatures. Check the packaging. On the other hand, cold temperatures do not affect LEDs. Use floodlights or spotlights on the eaves or on the ground to illuminate dark areas for added security. Bulbs in the 2700 to 3000 Kelvin range emit a warm light that is flattering to warm-colored exteriors, and cooler light 3500K or higher complements grays and can appear brighter.
How to dispose of incandescent light bulbs
Incandescent light bulbs typically do not contain toxic chemicals, so you can throw them away with your regular trash. You do, however, need to be careful of glass shards, just as would when throwing away any other glass objects. It may be a good idea to surround your old incandescent bulbs in plastic or other old packaging materials prior to putting them in your trashcan.
If you want to recycle your old incandescent light bulbs, you may have options available to you. For instance, Home Depot has a recycling program, which accepts old incandescent holiday light strings. 
How to dispose of CFL and fluorescent light bulbs
Unlike incandescent bulbs, CFL bulbs contain a small amount of mercury. Each bulb contains about four milligrams of the toxic metal. Although that is only a fraction of the amount of mercury in those old school thermometers, broken CFL bulbs can be damaging to the environment if they enter landfills or the water supply.
To dispose of your CFL bulbs properly, recycle them. Many big box home improvement stores have CFL recycle containers. Other home improvement stores and recycling centers in your area may also accept your CFL bulbs.
You may see long, tube-shapes florescent bulbs in your office. Or, you will even see them in closets, older kitchens, or garages. Like CFL bulbs, fluorescent bulbs contain mercury, so you should recycle them.Before you remove a burnt-out tube, it is wise to turn off the electrical at the circuit for that part of your home to avoid injury. Also, it's a good idea to wrap your fluorescent bulbs in an old packing material to help prevent them from breaking.
How to dispose of LED light bulbs
Light emitting diode, or LED, light bulbs are about 90 percent more efficient than incandescent bulbs. The electrical current passes through a microchip, which lights up tiny LEDs.
LEDs do not contain hazardous chemicals, so it is safe to throw them away in the trashcan. However, some of the components in LED bulbs may be recyclable. So, it's a good idea to contact your recycling company to see if they will accept your LEDs.
How to dispose of halogen light bulbs
You often see halogen bulbs outside, where people use them as floodlights. Halogen light bulbs are a more advanced form of incandescent bulbs. They are stronger and they are designed to withstand higher pressure than incandescent bulbs. You can safely dispose of halogen bulbs along with your regular household trash, or contact your local recycling center to see if they accept halogen bulbs.
How to repurpose old light bulbs
You can use old bulbs to make a variety of art projects. You can paint your light bulbs to make holiday ornaments, wrap them in twine or yarn to create fruit for a centerpiece, or you can break them into pieces and create mosaic art projects. Here are a few other cool light bulb art project ideas we've seen: snow globes, flower vases, oil lamps, hanging wall decorations, and spider or glass animal figurines.