In recent months, Victory Electric's board of trustees, management and employees have focused on streamlining internal processes to incorporate cost-saving technology and increase efficiency. This process included several employees taking on new roles within the cooperative and a new hire. 
Lowery transitions to new special projects role
Tom Lowery, formerly manager of operations, was promoted to manager of special projects. He will focus on several key projects including the overhaul of the underground electric infrastructure in downtown Dodge City. 
   Lowery began his career as an apprentice lineman in 1973 with Western Power and Light, which transitioned to Aquila in 2002. He started at Victory Electric in 2007 after Victory Electric's acquisition of Aquila. He is enjoying his new role, but is excited about his retirement in the coming years. 
Miller moves up to management position
With Lowery's transmission to a new role, Ryan Miller was promoted from supervisor of operations to manger of operations. He began his career as an apprentice lineman with Victory Electric in June 1997. 
   "I have worked closely with Tom and know what the operations guys do every day," Miller said. "Serving as a manager has offered a whole new set of obstacles and challenges, but I am excited."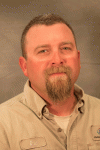 Speer promoted to supervisor
Another fellow lineman, Eric Speer was selected as the new supervisor of operations. 
   "I am excited for the change," Speer said. "I've worked as a lineman for 16 years, and I was ready for a new challenge."
   Speer started at Victory Electric as a groundsman and climbed the ranks to become a crew chief in 2007. 
Stormont is new serviceman
Nate Stormont also gained a new role. He is moving from a construction crew to a one-man service truck where he will address outages, repair street lights and more.  "I like the variety of work each day," Stormont said. "I am really enjoying the new change."  Stormont came to Victory Electric as a journeyman lineman from the City of Cimarron in 2006. 
Metering department gets new meter technician
Michael Stefan was recently promoted to meter technician after serving as a warehouse clerk for three years. He will be working with the supervisor of metering technology to address high bill complaints, meter testing, meter issues and more. 
    "I look forward to advancing my career with Victory Electric," Stefan said. "The change has presented a new chance to learn and I am liking it a lot."
Victory Electric welcomes new lineman
We would like to welcome Kevin Freeman to the team.
   Freeman joins Victory Electric as a second class lineman. The Chapman native is a graduate of Manhattan Technical College and previously worked at J&J Powerline for four years.
   The electric cooperative is a changing industry and Victory Electric continues to adapt our internal processes and procedures to work more efficiently and better meet the needs of our members.