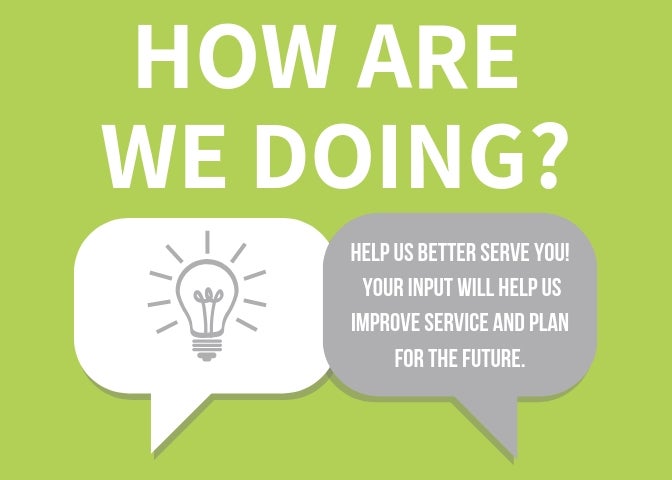 High levels of member satisfaction have always been the hallmark of electric cooperatives. This accomplishment reflects our recognition that enhancing member satisfaction is a never-ending service opportunity.
To provide us with continuous and tactically actionable feedback from the membership on the cooperative's service performance, Victory Electric contracts with TSE Services, an independent research company, and Data Decisions Group, a survey call center, to conduct quarterly (March, June, September and December) member satisfaction surveys via phone and email. The feedback provided from the surveys allow us to target improvements, measure progress, and help achieve higher levels of performance in serving members.
We want to know you're satisfied with Victory Electric. To help us better serve you, we encourage you to take a few minutes to participate in the survey. Surveys will be ongoing and a randomly selected group of Victory Electric members is contacted by phone or email on a quarterly basis. Having real-time and instant feedback - both good and bad - helps us to identify issues we need to address to better serve our membership. We can address a member's concerns quickly, and that is important to us.
For years, telephone surveys represented a cost-effective and efficient way to collect our member's opinions and evaluate satisfaction. Times are changing, however, as the growth in cellphone use and the rise in unwanted calls has resulted in more sophisticated technology for screening calls and declining response rates. Recently, we began a mixed-mode survey process to give members the option of a phone call or an online survey. Our ultimate goal is to give all members a voice. Some members are increasingly hard to reach by phone and the online/email option gives them an equal chance to be heard. Telephone surveys will continue for those with no internet access.
While our surveys are conducted as part of legitimate public opinion research, be aware there are scammers who pretend to conduct surveys as part of fraud schemes designed to rip people off. Reputable survey company representatives such as ours, Data Decision Group, will never ask for your personal information such as social security number, birthdate, account number, bank account information, or for payment of any kind. Representatives from the contracted survey call center, Data Decisions Group, will likely call from an out-of-state area code.
Part of our job is to ensure all members feel they have a voice in the future of their cooperative. If you are called or emailed for the survey, we would appreciate your participation. Your input will help us improve service and plan for the future.
You don't have to wait or take the chance you will be one of the random members polled for the survey, visit the Share Your Feedback page and send us a message, question, comment or voice a concern anytime and we will respond within three business days.